Our goal is to offer our apprentices an optimum start to their vocational careers through our team training. The team training, which is mainly carried out by Outward Bound, has proven its worth in the field of communications, integration and readiness to assist many times. In addition, regular special projects provide a diversified training; these projects are often carried out cross-professionally and with members of different years of apprenticeship. Through our special projects, we also delight our apprentices outside their normal training. All apprentices who have participated in special projects were always completely enthused by their tasks. Functional results round off the projects and make them successful experiences. Up to now, our special projects were our robot Xaver and most recently a PistenBully to a scale of 1:6. Of course, we also carry out smaller projects within the scope of the training years for apprentices. They are then able to take the results of these projects home with them.
For most, the initiation into vocational training is a completely new experience. In order to provide our apprentices with as pleasant a start as possible, we hold a team training event right at the beginning of their apprenticeship, during which they can get to know one another and work together. However, in order to function within a team, first an apprentice's own limits, skills or also weaknesses have to be explored. Very different tasks executed during the team training facilitate this. Our apprentices are taken out of their comfort zone, and thus learn a lot about themselves. A review of the training from the year 2018 shows that these tasks are often to be mastered outdoors! That year, the new apprentices were able to display trust in one another and to rely on their own skills, in part whilst blindfolded, during a hike along the bed of a stream, which encouraged them to recognize their own limits and to depend on help from others. Each of the two teams also designed and constructed an identical raft. Spurred on by team spirit, every single apprentice participated enthusiastically and made their own personal contribution towards completion of the project.
But if they had believed the event was over, they were very wrong! Tree top climbing followed, which was considered a major hurdle. Knotted to each other on a rope, the apprentices had to climb a ten meter-high spruce and then get down it again. Those who suffered from a fear of heights were supported and encouraged to overcome their fears by the entire group. Full of pride in overcoming their perceived limits, the day was rounded off with a lot of fun in the evening.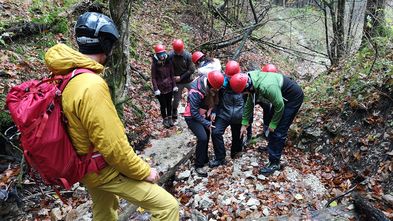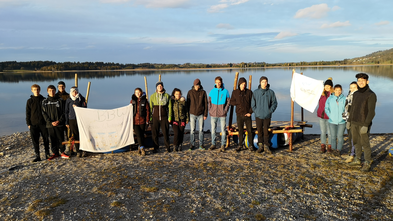 Our apprenticeship workshop has been working on the PistenBully project for some time now. Part way through the project, it was time to present it to the apprentices at Kässbohrer, the manufacturer of the original PistenBully. Therefore, in October 2019, our apprentices and their training supervisors set off on the journey to Laupheim. There they presented our model of a PistenBully E-600 to a scale of 1:6. Our model was very well received but, of course, had to prove its worth on the test terrain: Our PistenBully sustained the promises made by the original. It easily mastered the test mountain with a good 40 % gradient. After the test run, the STW team was given a company tour through the Kässbohrer production halls. It was great to see how the original E-600 is assembled and it gave our team insights into where our STW controls are installed into the PistenBully. The PistenBully technology is highly impressive, and when you remember that our apprentices built their model based only on a three-view drawing, then they have done extremely well to come so close to the original. Our apprentice project has not yet been completed, and still has to be extended and converted. Nevertheless, it has been possible to repeatedly use the model for study work, and it will certainly be used for such work in the future, in addition to presentations at our apprenticeship fairs.


STW at the apprenticeship fair Marktoberdorf
In 2019, we were again able to present our twelve different training occupations, along with many other companies, at the fair in Marktoberdorf. "Frankie", our robot arm from the apprenticeship workshop, who tirelessly took off his hot wire, was also there. Our apprentices were at least as busy advising the students and setting up and dismantling the trade fair. We had a lot of fun and are looking forward to next year!